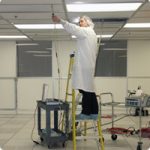 As anyone who does or will operate a cleanroom probably knows, that room and all of its pieces have to meet a specific set of class standards. Certification is a major part of compliance, and all cleanrooms need it done. What exactly does that mean, though?
Basically, cleanroom certification is a pass/fail test based on the standards set forth by The National Environmental Balancing Bureau (NEBB). The organization's Procedural Standards for Certified Testing of Cleanrooms constitutes a "uniform and systematic set of criteria for the performance of cleanroom testing and certification." A true cleanroom certification refers to the ISO 14644-1 classification test. Put most simply, its documents are concerned with airborne particle contamination within the cleanroom. Passing the test means that the airborne particles were within the set limit for the class.
NEBB's manual contains the minimum requirements to follow for testing and certification, though. Cleanrooms not only have to remain compliant with their class standards, they also have to meet customer quality specifications. For this reason, the pass/fail criteria for each entity's certification will be different. Certifiers will base test protocols on customer specifications.
Cleanroom Testing Categories
Cleanroom certification is ongoing. A certifier will play a role both during and after construction of the cleanroom to ensure it is compliant after it's built. Routine certification is also necessary. There are three categories for cleanroom testing:
As Built – this is a newly constructed and unoccupied space
At Rest – this facility is already functional but unoccupied with processes shut down
Operational – just as it sounds, this test is performed with people, processes, and tools fully functioning
Primary Cleanroom Tests
Primary cleanroom tests will include:
ISO 14644-1 particle counts
Room pressure differentials
HEPA filter velocity/volume
Air changes per hour calculation
HEPA filter integrity test
Additional Cleanroom Tests
Temperature and humidity uniformity
Particle recovery
Airflow visualization smoke test
Light levels
Sound levels
Static electricity evaluation/dissipation testing
Laminarity
Cleanroom Environmental Monitoring
There is also environmental monitoring, which includes:
Airborne viable organisms
Surface viable organisms
Airborne particle counts
Room temperature and humidity
Room pressure
Experts recommend finding a qualified professional rather than try to accomplish it in-house. The equipment is expensive, and there is a lot of it. Additionally, individuals need to be qualified to use the equipment. It is not cost-effective to do certification yourself.

Cleanroom Testing: Frequency
Your certification schedule will depend on your cleanroom class. You may need monthly, annual, or biennial checks. No matter the case, it's important to stay up to date to avoid costly problems later.
Gerbig Cleanrooms provides expert certification services for cleanrooms. For information on these services, visit this page. Feel free to contact us by phone: 888-628-0056 or email: info@gerbig.com.