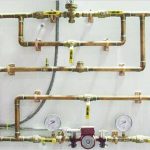 Gas detection systems not only rescue cleanroom productivity, they also save lives. In the last few years, the technology for these systems has drastically improved. This makes them more reliable, but are they reliable enough to forego the routine maintenance plan?
The average unit for detection costs around $1,000. A maintenance plan also costs around $1000 (annually). With that kind of a price tag, it's understandable why only about ten percent of facilities with gas detection systems have active maintenance programs.  However, this is a number that has gone up over the past few years. Let's look at the considerations for maintenance plans.
All gas detection equipment realistically should be tested every 90 days to ensure the safest, most proficient function. A maintenance plan covers this, ensuring everything is calibrated and responding correctly, and that equipment is detecting all target gases. These tests, in a maintenance plan, are performed with gases traceable to the National Institute of Standards and Technology.
Even with a new, state-of-the-art detection system, the only way to ensure it's working is to test it with appropriate gases. The worst-case scenario in failing to check this is death. There are facilities that, in recent years, have experienced fatalities. It only takes one incident to threaten the safety of employees and cause huge liability issues for a company.
For some facilities, these possibilities are so slim they are not worth considering. The other side of routine maintenance is they prevent false alarms. Faulty or mis-calibrated equipment can be set off by ambient gas. The events following a false alarm can include chaos, evacuation, halting of production, the arrival of emergency personnel, lost confidence, and bad publicity. Also, the emergency personnel who show up may be taken away from an actual emergency.
Of course, a false alarm also comes with a high price tag. As does a situation that compromises human health. Comparing the cost of a maintenance plan with the potential cost of needing one, the choice should be clear. That shouldn't be the most persuasive piece of the puzzle, though. Human wellbeing and product integrity are things you can't put a price on.
If you have questions about cleanrooms, validation, or certification, contact Gerbig Engineering Company at 888-628-0056 or info@gerbig.com. We are experts with your best interests in mind.