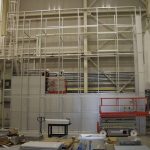 When it comes to reviewing job bids for cleanrooms, comparing the proposals can be a lot of work. If you don't have everyone on the same page as far as what you want, and if sketches aren't consistent, it will be really tough to fairly evaluate all the bids. To ensure that you can make the best decision, here are several tips as to how to navigate this process.
An accurate bid depends on a thorough specifications sheet. Your first step is to create one of these for all your bidding contractors to work from. It ensures that they know exactly what you need, and it helps you make an "apples to apples" comparison of their proposals. Here is what you need on this sheet:
Your room's classification.
Temperature specs and tolerance.
Humidity specs and tolerance. Humidity control is the most expensive part of a bid, so if this is only necessary for operator comfort, leave it out. If humidity control is critical to the process, express that and include it on the document.
The amount of process exhaust in CFM.
Include the process heat load in kilowatts. This is dependent upon what is in the room, like process machines or ovens. Controlled Environments suggests, "If you are not sure about this item, list the connected electrical voltage and current draw (amps) to start with. This will ensure some A/C tonnage is dedicated to this specification" ("Point of View: An Apple To Apple Comparison on Cleanroom Proposals," Kelly Barton.)
Identify the number of operators that will be in the room.
It will be helpful to also include a brief definition of the manufacturing process (or product) as well as a description of the host building. This may determine where HVAC equipment can be placed.
If your staff is unable to create this sheet, hire someone who can. The sheet need only be basic. Provide the spec sheet to the contractors, and ask them to separately itemize anything they feel is necessary but isn't on the specifications sheet.
You also want to provide the contractors with the same sketch that includes the ceiling height and room sizes. Of course, if you have any other critical parameters, include those as well.
Expect to have an initial bid phase and a final bid phase as you move forward. Getting everyone on the same page will help both you and your potential contractors communicate clearly and in a timely manner. Visit www.cemag.us for the full article.
Gerbig Engineering Company proudly manufactures Airecell cleanrooms. We also provide certification and validation services. For any questions about your cleanroom needs, contact us at 888-628-0056 or info@gerbig.com.