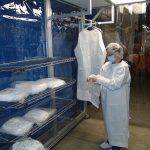 Finding and retaining talented staff is important in any industry, but in a controlled environment, your staff really makes or breaks your success. Even after you find a person who is right for the job, you still need to ensure he or she is happy enough to remain productive and interested in the role long-term. In this series, we will cover tips on how to find the right people, keep them engaged, and minimize turnover. Let's start with hiring and working appropriately with your talent.
Hiring
The first step, obviously, is to hire the right person/people for the job. How are you at choosing people who fit? There are several things to include in your interview process to spike your chances of picking the right candidate:
Don't just find a fit for the job duties. Write out the mental requirements, habits, and expectations that your ideal candidate would have and base questions around those.
Don't just ask what each interviewee would do in a situation. Ask for examples of past action.
Ask your most valued employees to describe the job. Also assess their personalities. What is it that makes them so accomplished? Use these answers to find out who your candidates are.
When possible, don't focus as much on experience as you do on ability to learn and likelihood the person will be happy in the role. You can miss out on a really great employee because you weren't willing to train someone to be amazing.
Ask interviewees what makes them happiest in a job. Is that what this job offers?
Find out who your most intuitive hiring managers are. Is there someone in your company who has made better hires or who has "called it" correctly when people succeed or fail? That may not just be luck. Some people have an unexplainable, superior sense about potential or new employees. Let them weigh in heavily on your hiring decision.
Focus appropriately
You're going to have employees who will be difficult to replace, those who need a lot of help, and those in the middle who could go either way. Often times, managers devote most of their attention to the ones who need a lot of help. While managers should mentor their employees, this approach creates a huge problem.
Focus more on the people at the top – develop them to be their best. They will encourage the middle group be more productive. (So will the example you set that being on your game is rewarding.) The top employees can also train the ones who need more help.
If you're constantly putting out fires, your job will be exhausting. You will be too drained to do the rest of your job at your best. Recruit help and perspectives from the employees who excel at their jobs. Delegate mentoring to other qualified staff (but don't put too much on their plate.) They will also have a better understanding of what those "in need of help" people are really going through.
Of course, just like you should promote deserving people, you should let go of people who just need to move on. There are times when all the training in the world won't bring talent, happiness, or compliance to an individual. Do what is best for both of you.
Next week, we will cover compensating your employees – and not just monetarily – for greater productivity. If you need certification or validation for your cleanroom, contact Gerbig Engineering Company. We are experts who can help you succeed. Call 888-628-0056 or email info@gerbig.com.