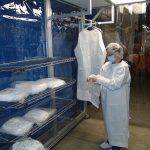 In the cleanroom, your staff must follow specific protocol to maintain product integrity and cleanroom compliance. Hiring quality people who are good for the job is just as important as maintaining quality staff. In parts one and two, we covered hiring and managing practices as well as compensation. Here we will discuss communication practices that will help managers engage and retain their staff.
Leadership communication revolves around 5 main areas. Some of these overlap with the conversations you should already be having with staff based on the last two topics.
Obtain and give feedback. All updates about your company, from initiatives to new hires, should be communicated with everyone. It is very important that all staff is on the same page as the company in all respects – it lets the staff know they are important as well as creates unity in delivering your core objectives. Employees work harder when they know exactly why they (and you) are doing their jobs every day.
You also want to get feedback from employees about best practices, concerns, suggestions, and anything else they can contribute to the process or company. Employees who feel like they are heard and make a difference are happier than those who don't.
Of course, feedback also includes giving praise and recognition.
Provide objectives. You want to create specific, measurable job objectives and make sure employees fully understand them. Also, hold staff accountable for achieving them.
Develop. Career development is a major factor in whether employees will seek outside employment. Determine what path each employee wants to take, what kind of potential each has, and discuss the real possibilities with each person.
Motivation. This coincides with non-monetary compensation we discussed in the last article. Find out what rewards, incentives, and environmental qualities motivate each employee to go the extra mile. When you do use an incentive, make notes on how effective it was.
Determine and work to their strengths. As mentioned in part 1: Hiring, knowing where your employees' strengths lie, and then putting them in roles where they thrive will greatly improve your process. Certain parts of your operation come more naturally to some than others. By matching jobs to people based on strengths, the job gets done better and faster, and employees are happier. According to The Gallup Organization, these strengths are the #1 predictor of success.
With effective communication, proper compensation, focused management, and deliberate hiring, you can build and retain the best staff possible. Remember, making these changes can take time, but will pay off in the end with productivity, job satisfaction, and minimized stress for you and your staff.
If you need certification or validation for your cleanroom, contact Gerbig Engineering Company. We are experts who can help you succeed. Call 888-628-0056 or email info@gerbig.com.