Constant Temperature Rooms
Gerbig Engineering Company constructs precision temperature rooms, either with a cleanroom environment or standard filtration environment. The construction uses the AireCell line of extrusions which make assembly fast, easy, and flexible. Temperature stability has been demonstrated to +/- 0.04F over a 24 hour period.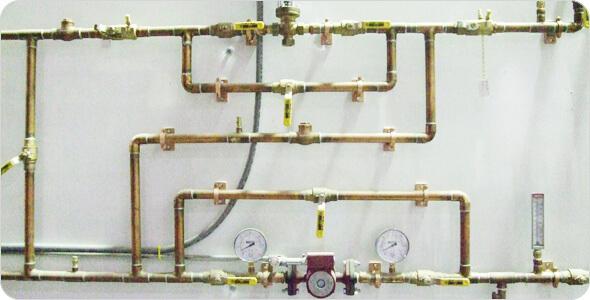 Typical HVAC System Design
Gerbig Engineering typically uses primary-secondary chilled water cooling with electric reheat and SCR control. Large air flow is required based on the user's stability requirements. We have found that fan-filter modules cannot be used with constant temperature rooms.
Temperature Specifications
It is important for users to specify the temperature correctly to eliminate extra costs or missed temperature tolerances. Does the temperature tolerance apply to the entire room or just one point? Is the temperature determined by an average of several sensors?
Validation
Gerbig Engineering uses both a Kaye Validator with multiple sensors in order to map a rooms temperatures to insure uniform temperature distribution. Temperature stability is checked using an Intelligent Resistance Temperature Device (IRTD) that reads to 0.001C over a specified time period.