AireCell® Softwall Cleanrooms
AireCell® Softwall Cleanrooms offer light environmental control at an affordable price. They can be erected quickly and consist of metal framing, flexible vinyl cleanroom curtain walls, and numerous fan- filter modules to control particulate and airflow. These are probably the most mobile cleanroom systems available, as they're modular and easily portable.
The interlocking grid system of each softwall cleanroom design allows durable construction with easy assembly and expansion. Portable softwall cleanrooms are modular, convenient for expanding and connecting to other, previously constructed softwall cleanrooms. AireCell® Softwall Cleanrooms can be configured to meet contamination requirements by proper selection of HEPA filtration. We can assist the customer with Air Changes and Class requirements.
The Applications of Softwall Cleanrooms
Portable and modular softwall cleanrooms are easy to incorporate into a variety of applications and other cleanroom systems. Mounting methods, closure, and fastening systems allow them to be used as partitions within larger environments or to create cleaner interior zones. They even come in several finishes, like transparent, tinted, and opaque to widen their applications. Overall, softwall cleanrooms are common to use for basic environmental control to inspection rooms, manufacturing areas, GMP rooms, and machinery enclosures.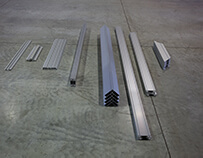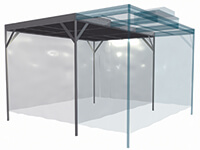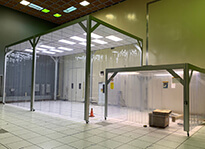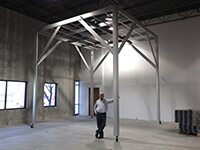 AireCell® Softwall Cleanroom Features
Easy installation – no nuts & bolts
Quick delivery
Design flexibility
Easy expansion, reconfiguration or class upgrade
Easy conversion to rigid walls
Portable Cleanroom Options
Detachable Sections
Castors – Swivel with locking wheels specified by model.
Alternate ceiling heights.
Factory Wiring Option — with single point connection.
Non-Outgassing Polyurethane curtains.
Hardwall Sections
Softwall Cleanroom Framing
The AireCell® Softwall Cleanroom system is composed of a frame built with only four aluminum extrusions and cleanroom curtain walls with an integral hook that interfaces seamlessly with the AireCell® frame. Mobile softwall cleanrooms are modular and easily expandable. Rigid walls can also be added later with the addition of AireCell® extrusions and several choices of rigid panels. Softwall cleanrooms can be built in any configuration, unlike other systems.
Cleanroom Curtain Walls
Gerbig Cleanrooms provides several types of cleanroom curtain options for portable sterile rooms. The most common is 40 mil clear PVC heat welded to our AireCell® PVC extruded attachment.
Cleanroom Curtain Wall Options:
Standard 40 mil PVC
ESD Safe 40 mil
Class 1 fire rated ESD
Non outgassing polyurethane
Colored 40 mil PVC
Blackout Curtains
ESD Cleanroom Curtains
Surface resistance measured in ohms is complex. It is basically ohms per square, or just ohms.
 Laser-Safe Cleanroom Curtains
Gerbig Cleanrooms has built laser-safe softwall cleanrooms using high-quality cleanroom curtains from outside vendors.
Softwall Cleanroom Assembly Video