Cleanroom Doors
Sliding doors are becoming more popular because they save space by eliminating the door swing area. They also have less effect on room pressure in small cleanrooms and do not create as much turbulence.
AireCell® offers quality commercial aluminum doors as a standard cleanroom component. A unique outer frame allows doors to install easily into the AireCell® wall system. Door leaf is pleasing to the eye but engineered for strength to provide years of trouble-free service.
Personnel Door Features
AireCell® cleanroom doors come standard with push bar, pull handle, full glass insert and heavy-duty hinges and automatic door closers. Optional door panel materials and configurations are available.
Equipment & Material Doors
Large panel doors can be incorporated into the AireCell® wall system to allow moving of material or equipment into and out of the cleanroom. Door panels are hinged and have rollers to support the weight of the door.
Cleanroom Door Types
Manual Sliding Doors
Automatic Sliding Doors
Controlled Access Doors
Roll-Up Door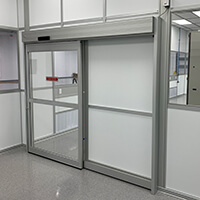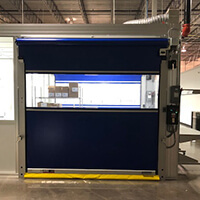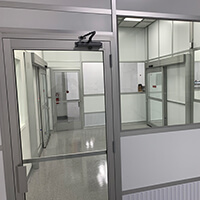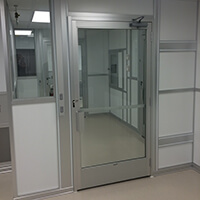 Door Options
AireCell® swing doors framing is standard clear anodized with a 10" ADA compliant bottom rail standard. Other commercial door options are available including:
Fixed or operational side leaf (double doors)
Color anodizing finish
Intermediate cross rails
Keyed locks
Door panel options
Aluminum composite door panels
Electrical strike for interlocks
Automatic Door Bottoms. This feature seals the bottom of the door when the door closes and lifts immediately when door starts to open. This component is useful when environmental control of cleanroom is critical.
Interlocks. This feature prevents cross-contamination by loss of pressure. Gownroom access door and gownroom to cleanroom door are interlocked so only one can be open at a time.
Power Door Openers. Power actuators with push buttons are available for AireCell® swing doors.
CMI Architectural Series
CMI Series 200 Narrow Stile aluminum stile and rail doors are designed with slim-line beauty and engineered for strength in moderate traffic use applications. Superior quality in an economical door ensures years of durable service.
Stiles: 2 1/8"
Top Rail: 2 7/8"
Bottom Rail: 3 5/16"
10" ADA compliant bottom rail option
6 standard intermediate cross rail options from 3/8" to 6"
Single leaf maximum standard size 4' width x 8' height
Variety of manufacturers standard or custom hinges, locks, exit devices and other hardware options.
Full spectrum color choice in Anodized or high performance Kynar resin based paint coatings