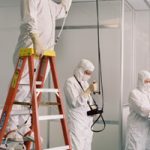 Cleanrooms depend on people in a number of ways. Staff is needed to carry out tasks, but they are also responsible for completing tasks correctly. In a cleanroom, there is a very clear, "correct" way to perform duties. Furthermore, people are most responsible for producing contaminates. Any failure in a cleanroom is most likely the result of a person who didn't follow protocol.
Why does this happen? Good people and good workers are still prone to mistakes, but that isn't entirely what is wrong. People who are not engaged, improperly trained, or not invested in the company's mission are less likely to give it their "all" when at work. So how does a manager help staff be all they can be?
It turns out that simply talking to employees will help dissolve issues that cause apathy, carelessness, or unproductiveness. According to Controlled Environments' "Mind Reading for Managers" by Kim Seeling Smith, there are 5 conversations to regularly have with employees.
Feedback. This is a two-way street. Listen to the feedback from your employees. People who feel that they make a difference for their company are happier. Also, give feedback to employees, especially praise. People need to hear when they're doing a good job as much as – if not more than – when they need to improve.
Expectations. Be sure that you and employees share the same understanding of expectations and objectives. Also, provide a clear explanation of how success and/or performance is measured. You'd be surprised how differently people can perceive identical information.
Employee development. If an employee thinks he or she does not have a future at your company, that person will feel like he or she is going nowhere with that job. Help develop your employees, identify career paths for them, and support their growth. They'll work harder in their current roles and shine in future ones.
Underlying motivators. Find out what else besides money drives your employees to go the extra mile.
Strengths. Thanks to the strengths-finder test, many of us are familiar with the benefit of knowing our strengths. Rather than laser-focusing on what needs improvement, employees identify what areas they naturally excel at. This doesn't mean a person shouldn't improve on areas of struggle, especially when succeeding in that area is necessary for the job. It means that people will be a better fit for their jobs, experience less stress, and naturally flourish in roles that support their strengths. You don't need to administer the strengths-finder test to accomplish this. Spend a little time each week identifying your employees' strengths and helping them do their jobs according to what they are best at.
Employees who feel like they matter are happier. Employees who feel cared about care more about their jobs. Employees who feel supported by their managers will work harder. You need people to show up to work every day with focus and purpose. It's as simple as a conversation, and you can start today.
If you have questions or needs pertaining to cleanroom verification, certification, or construction, contact Gerbig Cleanrooms. We are experts who care about you. 888-628-0056; info@gerbig.com.