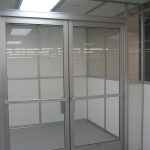 There are times when a manufacturer may consider using a clean space rather than a cleanroom. Be it for economic advantages or process flow, there are times when this is a feasible substitute. How do you know if this is the case for you?
Before you look at any other factors, you first need to determine what your customer expects. If he or she has contractual requirements for a cleanroom, then that is what you must deliver. Additionally, what perceptions will the customer have of your clean space? Even if there is no formal request for a cleanroom, is the customer expecting the product be made in an independent, confined space? Know exactly what you have to provide.
If it's acceptable for you to use a clean space over a cleanroom, here is what you need to consider:
Define everything. Detail the contamination sources, define the clean space, and identify every piece of equipment and process that needs specific cleaning.
Secure initial cleaning. Is your machine shop a clean area? Specify the processes. Following machining, the product should be cleaned immediately. Ensure that washing, rinsing, and drying can be carried out promptly. Benchtop or immersion bath cleaning may be viable options.
Evaluate environmental controls and peripherals. What applicators are you using to hand-clean products? How can you ensure that these items won't contaminate the product? How will you protect the workers? What kinds of gloves are best suited for your needs?
Consider drying and storage. If air-drying parts, be aware that the air may contain oil. How can you control the air? An enclosed storage space with limited access and air control is a great solution to this problem. Be sure to create a protocol for protecting and storing parts after they've been machined and cleaned.
Plan ahead for multi-purpose environments. Protecting workers from exposure to airborne hazards requires a different airflow than protecting a product from contaminates. Work with safety and environmental professionals as well as engineers to achieve the "sweet spot" for contamination control.
All in all, you are evaluating your needs and solutions when it comes to:
Clean air
Clean water
Clean process chemicals
Product protection
Worker protection
Customer satisfaction
If you have questions about cleanrooms and how to achieve the environment necessary for your product, contact the experts at Gerbig Engineering Company. We've been manufacturing cleanrooms for nearly 30 years. Reach us at 888-628-0056 or info@gerbig.com.