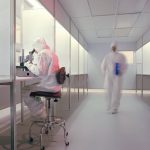 Anyone who works in a cleanroom knows the importance of controlling electrostatic discharge (ESD.) He or she also knows how easily motion and activity can create the unwanted static. We've written some articles on controlling ESD, but we have not covered the different kinds of packaging that is available.
Surface resistivity units of ohms per square are used to measure ESD protective totes and packaging. You'll find these materials categorized in one of three ways:
1. Conductive Surface Resistivity (CSR)
By compounding carbon particles material (CPM) into plastic resin, surface resistivity is permanently changed. The surface transforms from an electrical insulator to an electrical conductor. The charge bleeds off a grounded tote; a covered tote also provides "an electrically continuous conductive enclosure that provides electrostatic protection." ("Controlling Electrostatic Discharge in Cleanroom Packaging," Michael Mills, Kathy Mills, Justin Mills, Laura Clark; cemag.us.)
2. Static Dissipative Surface Resistivity (SDSR) –
This is also achieved by compounding CPM into plastic resin. When the result is SDSR, the rate of static discharge is slower than conductive material. SDSR works when it makes contact with ESD-sensitive components.
3. Antistatic Surface Resistivity (ASR) –
This material resists high amounts of charge accumulation and does not need to be grounded. One downside to using this kind of material is that the additives used to create resistivity can migrate to the surface and evaporate.
Knowing these three kinds of properties, let's look at the actual packages and containers you can choose from:
Corrugated Paper and Paperboard – these packages are coated with carbon black, foils, or other materials to provide ESD protection. It is a low cost option, but the dust and other debris from the packaging can damage components. They come in a number of standard sizes.
Molded Plastic – these totes are available in all three kinds of anti-static material. They are durable and reusable, but if you need to customize the size, it does become a costly option.
Corrugated Plastic – these totes come in CSR and ASR, ranging in thickness from 2 – 6 mm. The plastic is a more costly option than paper, but it's far more durable. If you need the container to last a long time, opt for CSR as ASR is not permanent.
The final decision, timeframe, and cost of your tote will depend on many things. You'll need to determine the use of the container (everything from tracking to stacking to fitting onto shelves.) You can ask for prototypes or samples to make sure your products fit your needs. You also need to remember to make sure that the final package fits into your storage unit. With the right container for your process, you can effectively continue to control ESD in your cleanroom.
Gerbig Engineering Company performs certification and validation for cleanrooms. We also manufacture AireCell Cleanrooms. For questions about cleanroom processes or requirements, contact us at 888-628-0056 or info@gerbig.com.
*For a more detailed explanation of ESD packaging, visit www.cemag.us.