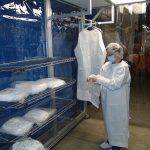 There are many considerations cleanroom operators must make when deciding on a garment for the cleanroom. Different uses and requirements will dictate whether disposable or reusable is more appropriate as well as what material is needed for the application. For medium to high-risk environments, disposable garments tend to be more cost-effective. We will focus on the qualities of disposable garments here.
Different industries have separate needs when it comes to their cleanroom garments. For example, pharmaceutical manufacturing looks at particulate control and sterility. Electronics manufacturers would be most concerned with particulate. Biotech companies are concerned about cross-contamination. Each manufacturer will be interested in different qualities of fabric and suppliers.
Cleanroom Garment Fabric Types
Here are some of the fabrics used for the garments:
1. Tyvek, made by DuPont
This fabric is probably the most well-known fabric in the cleanroom industry. It performs well in Class 100 (ISO Class 5) to Class 100,000 (ISO Class 8). The material is breathable and offers light splash protection against non-hazardous liquids. Most organic and inorganic chemicals will not affect the physical properties of the material. Tyvek remains strong and flexible wet or dry, and down to -100 degrees Fahrenheit. While the garments can be treated to be static-dissipative, they are not static shielding. There is free-fiber generation at wear points, and if exposed to a flame, Tyvek will melt away.
2. Spunbonded-meltblown-spunbonded (SMS)
The spunbonded polypropylene outer layers offer extra strength and comfort. The microfiber matrix middle layers filter out fine particulates and water-based liquids. This is a breathable fabric but does not block particle and microbes as well as Tyvek.
3. Spunbonded Polypropylene (SBPP)
This nonwoven material offers minimal barrier properties. It is used for low-cost commodity applications like shoe covers, coveralls, lab coats, and bouffants.
4. Compressed Polyethylene
65% low-density polyethylene and 35% light low-density polyethylene make up this lightweight film that is practically impervious. Best used when physical properties must be unaffected by either chemicals or solvents.
5. High Moisture Vapor Transmission (HMVT) Fabric
This film by BF Goodrich lets moisture escape while keeping liquids from penetrating. Solid State Technology's article, "Disposable cleanroom garment use and markets," says the film: "incorporates monolithic film technology to provide textile producers with waterproofing qualities, selective permeability, tear and puncture resistance, and barrier protection."
You can see that each material caters to a slightly different set of needs. Cleanroom garment technology has come a long way since Tyvek came out in the early 1960s. Comfort has proven to be a highly significant consideration in these garments; this is obvious when we see adjectives like, "lightweight" and "breathable." These are other factors that garment suppliers consider with their products.
Cleanroom Garment Suppliers & Products
Solid State Technology (SST) posted a thorough article on cleanroom garments called, "Disposable cleanroom garment use and markets." Below we will outline garment suppliers and their products.
1. Cardinal Health – The authors dedicated a significant amount of space to this company, citing them as a market leader in sterile, disposable cleanroom garments. Manufacturing garments for use in Class 100 (ISO Class 5) to Class 100,000 (ISO Class 8), Cardinal Health offers the highest sterility assurance level available – .000001. The company's sterile and nonsterile garments are made with Tyvek. The sterile Micro-Clean line is laundered and sterilized with gamma radiation. They are individually bagged and packaged in a Class 10 cleanroom. The three lines of nonsterile garments include the Micro-Clean 2-1-2 Opti-Soft. It's coated to eliminate loose fibers and can be recycled.
2. DuPont – Offering four different lines of disposable garments, DuPont's sterile garments come with a "Certificate of Irradiation and Sterility." The IsoClean is a durable garment that offers excellent barrier properties. ProClean garments are exceptional liquid and particulate barriers. The Suprel LS line offers good liquid and particulate barriers along with exceptional comfort. Summus, with good barrier and breathability, is the most economical line.
3. Kimberly-Clark (KC) – These SMS fabric garments offer strength and cloth-like comfort. The Kleenguard brand products have a patented microforce barrier fabric that not only provides "outstanding particulate holdout," but also "claim to be 25 times more breathable than Tyvek." According to SST, "The fabric has a clothlike, abrasion-resistant, spunbond polypropylene outer layer and includes a middle layer comprising an intricate web of microfibers that filter out many water-based liquids and dry particulates."
These were the three companies with the best product descriptions, though the article also mentions Alpha Pro Tech, Lakeland Industries, Cellucap/Melco Manufacturing, and Shenzen Selen Static Scientific. Most of these manufacturers' lines can be purchased through distributors like WWR Scientific Products. Global Recovery Systems is mentioned as a company that recycles disposable cleanroom garments.
Today's technology for cleanroom garments is quite impressive, but it can overwhelm the person who has to decide what kind of garment to use. Disposable garments, as described in the SST article, are often more cost-effective than reusable garments. Manufacturers who use cleanrooms need to know what kind of protection they are looking for and go from there. The right garment not only protects the products but also keeps employees happy.