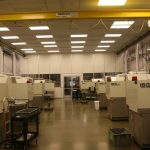 Installing lighting systems in a cleanroom can be a challenge because of the air filtration systems. Depending on the class of cleanroom, the ceiling may be covered with filters, leaving little room for light fixtures. Yet finding a lighting system that works effectively with the HVAC system is only one piece of the puzzle. You still need fixtures that maintain the integrity of the workspace, require little maintenance, and of course, provide appropriate light.
Cleanroom Lighting Fixture Styles
When choosing your lighting system, the first thing you'll look at is the fixture style. There are three common ones, and choices depend largely on cleanroom class.
ISO 8 to ISO 5: Recessed troffers are most ideal in these environments. There is enough space in the ceiling and plenum in all cases. Your typical ISO 8 – 5 cleanrooms are pharmaceutical, semiconductor, chemical lab, and electronic assembly.
ISO 5 and ISO 4: These are moderately demanding classifications. For an open-area design, surface-mount teardrops are suitable light fixtures. They are mounted to a 2-in.-wide ceiling grid individually or in a continuous row. The aerodynamic shape of these fixtures minimizes disturbances in the laminar airflow.
ISO 3 and ISO 4: With the high air filtration requirement here, there is not enough room for recessed troffers. Surface mounts are installed below the ceiling plane and are therefore very efficient.
Additional Cleanroom Lighting Considerations
Once you've selected the appropriate fixture style, you need to focus on the exact fixture. To do so, you want to know what affects the quality of light. Most cleanroom facilities produce or handle small objects, so proper illumination is vital. There are three basic areas to become familiar with:
• Light Levels. Your illumination requirements will vary depending on the different process areas. In each, you want the fewest number of fixtures to obtain the desired amount of lighting. Your lighting manufacturer may be able to help you determine this by reviewing the layout of your facility. Remember that you also need to minimize glare. Fluorescent lighting is the most common. In the future, LED will be more available for a controlled environment.
• Housings. Certain materials best resist contamination and withstand rigorous cleaning procedures. These materials are usually aluminum, stainless steel, or carbon steel. Your fixtures should be welded or sealed shut. If your cleanroom needs to be hosed down periodically, you'll need to wet-list your fixtures.
• Lenses. For easy cleaning and minimal dust/dirt accumulation, lenses should have a smooth outer surface. Acrylic lenses are the most durable, making them the most popular. There are many lenses and diffusers available for each classification level. Lenses can also be constructed with radio filters to not compromise any electronics in a semiconductor manufacturing facility.
Remember, your ISO class is your first concern when choosing your fixtures. Illumination, contamination, and maintenance considerations follow closely behind. With thorough research and understanding, you will find the lighting that is best suited for your cleanroom facility. For questions about cleanroom validation, certification, or manufacturing, contact Gerbig Cleanrooms at 888-628-0056 or info@gerbig.com.