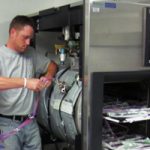 Validation is documented evidence that declares a process or system will consistently meet a predetermined specification. It is a series of documented tests and gathered information that proves a system will produce a product that meets all specifications and standards. Validation is FDA-mandated for the pharmaceutical, bio-pharmaceutical, medical device, and food manufacturing industries.
The facility using the system is solely responsible for validation. While it is common for a facility to contract an outside firm to perform this complex service, it is still the facility's obligation to approve protocols and execute testing. Ensuring that the entire validation process is accounted for requires some organization. This comes by way of the validation master plan.
The master plan maps out the entire process of validation. It is thorough and multifaceted. A full description of a master plan can be found in Jan Eudy's "Validation of Aseptic Cleanrooms for Co-Packing Food Items" in Controlled Environments.
The validation process can be summarized, however, into four core specification areas:
Installation Qualification (IQ) – this documentation is a series of checklists, forms, drawings, schematics, and equipment manuals that prove all devices, equipment, and control loops are installed and functioning as specified. Any hardware and software that controls the equipment is included in this category.
Operation Qualification (OQ) – this documents that all equipment and accompanying control systems operate as designed and perform within specified standards.
 Performance Qualification (PQ) – This puts the entire process together to ensure that the final product consistently meets specifications. Eudy describes it: "The PQ documents that the entire system can operate consistently and will produce a product meeting the predetermined specifications of the facility."
Change control – this documents any change that has been performed as well as the revalidation of the changed element and the entire system working after the change has been implemented.
Firms that perform validation have outlines of a validation master plan and expertise in completing all the necessary steps. It is often more convenient and more reliable to call upon an expert to validate a cleanroom. Gerbig Engineering Company performs validation of facilities and equipment. A detailed description of what their IG, OQ, and PQ entails can be found on this site under Services > Validation > IQ, OQ, PQ.