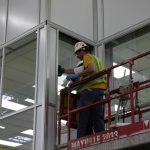 When it comes to your cleanroom, safety is multifaceted. Safety programs use OSHA standards, internal company requirements, and national consensus standards to ensure that work is performed ergonomically, efficiently, and safely. These programs are designed to protect employees and the integrity of the cleanroom. Your cleanroom safety plan should address appropriate employee behavior, functionality of the cleanroom, and cleaning/maintenance of the controlled environment.
Here is what you should include in your plan.
At home
Safety begins with employee hygiene and body/skin/hair care products. Each work day, employees should remember to:
Shower
Shave
Brush teeth and hair
Reduce skin flakes by using non-silicone skin moisturizers
Avoid make-up, hair product, perfumes, and any aromatic after shaves or lotions
Gowning
You should already have a gowning procedure in place for employees. This should be reiterated in your safety program. Depending on your cleanroom class, this may include things like:
Secure hoods and masks to minimize movement of the pieces and maximize operator visibility
Wear goggles or safety glasses
Choose the appropriate size for all coveralls, boots, and shoe covers
Secure coveralls at the ankles
Boots and shoe covers should fit snugly and be secured with straps at the top of the foot and at the knee (for boots.)
Behavior
Your safety plan should also include personnel practices and procedures like:
No fast movements, running, or horseplay
No smoking, eating, drinking, or chewing gum
No sitting on equipment or on the floor
Housekeeping
The cleaning protocol, including sequence, methods, and materials, should also be identified in your safety plan.
Keep an updated list of SDS for all chemicals used in the cleanroom
Train employees how to understand an SDS
Include directions on how to use cleaning agents and the surface each cleans (walls, floors, etc.)
Establish the order and manner in which surfaces are cleaned. For example, clean from cleanest to dirtiest areas.
Identify cleanroom-approved materials
List safety precautions for cleaning chemicals, like flammability and incompatibility with other chemicals
Point out the location of any emergency showers and/or eye wash stations
Define the exposure limits of chemicals
Beyond these items, your safety program should also include equipment validation, records of all training sessions, and continuous monitoring. If you have questions about cleanroom validation or certification, contact Gerbig Engineering Company at 888-628-0056 or info@gerbig.com.