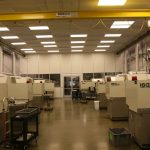 There are several criteria to consider when selecting equipment for your cleanroom. Making the best choice doesn't need to difficult, but it does need to be well thought out. Here are some guidelines for you and your coworkers to follow when making this decision.
Compliance requirements: Your first concern with new equipment is that it is compliant with your specific cleanroom. Clear communication between you and the supplier is the key to choosing the right equipment for your cleanroom. Tell the supplier in writing your:
Class level
Type of industry
Any ESD or AMC concern
The supplier or manufacturer should send back clear specifications including:
Everything the proposal entails
Construction materials
Standard product features
Dimensions
ESD or AMC compliance
Other available features
Once you have this, review everything with the appropriate coworker(s) to ensure the specifications match your needs.
How the materials stand up to the environment: You will be cleaning this equipment regularly, thereby exposing it to whatever chemicals you use to sterilize and disinfect it. Materials that are more easily damaged include PVC, acrylic, high-pressure laminates, polycarbonate, and other synthetic products.
Materials that tend to stand up to degradation include aluminum, stainless steel, and powder coat finishes.
Additionally, the cleanroom environment itself may compromise the integrity of the material. You need to consider how the product will hold up against humidity, UV light, or anything else that can potentially damage equipment.
Long-term cost: While you may want to keep your initial investment as low as possible, don't forget to factor in the long-term maintenance and upkeep of your equipment. As stated above, you will prolog the life of your equipment by choosing materials that can withstand the environment. Quality workmanship and parts will also make a difference in the future of your investment. Consider the cost of fixing or replacing less expensive equipment versus investing in something that costs more.
Prepare for maintenance: If a part needs to be replaced down the road, you don't want it to uproot or stall your entire process while you wait to fix it. When ordering your equipment, ask the supplier for:
Make and model number of each piece of equipment
A complete parts list for each piece of equipment
Life expectancy in years for each part
Keep this list where it is easily accessible. Additionally, order crucial replacement parts along with the equipment. Having this on hand will allow you to immediately fix anything down the road, limiting the broken part's impact on the timeliness of your process.
Taking care and consideration before you buy equipment will save you headaches later. Be sure to discuss all factors with relevant team members to be certain that the equipment you're buying is what's best for you.
Gerbig Engineering Company manufactures Airecell cleanrooms. Its expert staff also performs cleanroom certification and validation.  For questions about cleanroom equipment or services, call: 888-628-0056 or email: info@gerbig.com.
This list of tips was modeled after those in Controlled Environment's article, "Selecting the Right Equipment for your Cleanroom."