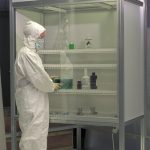 Employees who work in labs that handle glassware know all too well the frequency of injuries that happen in this environment. Minor cuts are most often the result of an accident, but more serious injuries do occur. Flying glass, exposure to chemicals, and fires are all realistic scenarios that can inflict serious harm.
According to ALN Magazine's online article, "Twelve Tips for Working Safely with Laboratory Glassware," by Vince McLeod, CIH: cuts, punctures, and scrapes alone accounted for nearly a quarter of workers' compensation claims between 2006 and 2008. The cost of these claims totaled over $100,000.
For the sake of safety, time, resources, and cost, be sure you're following these 12 tips for handling glassware:
Choose the right Personal Protective Equipment (PPE). Working in a cleanroom, you may already have your arms, legs, and hands covered. Be sure to also wear eye protection and closed toe shoes. Choose garments that are approved for your cleanroom class.
Follow the proper procedure for apparatus setup. When clamping glass to supports, remember that over tightening the clamp can cause mechanical stress. Only hand-tighten to firm, not extreme, pressure.
Carefully inspect all glassware for chips. Chips weaken the glass.
Be extra cautious when washing glass by hand. According to McLeod, "This single task is the source for most of the injuries. Wear heavy duty gloves and handle glassware delicately."
Develop SOPs to ensure that no one mishandles hot glass. Appearance alone will not indicate whether glassware is hot. Keep protective gloves near stations where glass is heated. Establish a cooling station for hot vessels.
Lubricate glass tubes before inserting into rubber stoppers (and the like.) Use a grease or product that is approved for your cleanroom class. If nothing else, deionized water is better than no lubricant.
Use care when applying or removing plastic tubing. Use lubricant when applying tubing to an apparatus, and delicately work it in. For removal, McLeod says, "Put the tubing and nipple against a strong support and cut the tubing close to the end of the glass. Finish by then cutting the tubing lengthwise along the nipple and removing the waste material."
Be careful when mating your fittings. Mishandling fittings is a very common cause for accidental cuts.
Be patient and cautious with frozen joints. If you have lab grease that meets the requirements of your cleanroom class, it will help prevent joints from "freezing." Soaking the joints overnight can loosen joints, and if not, heat may be used. A heat gun or glass torch can be effective, but be diligent about following safety protocol. Remove all flammable solvents; heat outer surfaces quickly enough to not heat inner glass too much; do not heat for more than 30 seconds. Be very gentle when tugging on the glass during heating.
Use extra caution with equipment under pressure or vacuum. Surface scratches will lead to glassware weakness and breakage, so ensure there are none. Check that you are using all equipment properly and with all safety precautions in place. Round vessels withstand more pressure than flat-sided ones.
Routinely test for stressed glass. Polarized light will identify stress lines.
Properly dispose of broken glass. Remove all hazardous material before disposal. Use a sharps container, and don't fill above the "max" line. Be sure it is closed securely and properly labeled before dumping or recycling.
As a general rule, always make sure you're using PPE and materials that are approved for your specific cleanroom class. Safety is not only in the handling; it is also in the right supplies and tools for the environment. Find McLeod's full article here.
Gerbig Engineering Company cares about the safety of your employees and the integrity of your cleanroom. We manufacture cleanrooms as well as provide certification and validation services. Contact us for questions about your cleanroom needs. 888-628-0056; info@gerbig.com