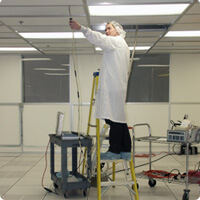 Customer and registration audits can be stressful, and even more so when a company questions its preparedness. By issuing several internal audits throughout the year, these second and third party audits will be more successful. Additionally, employees will be better experts in policies, procedures, and instructions. 
Jan Eudy wrote a thorough article on the topic for Controlled Environments called,  "Audit for Compliance." Here is a summary of considerations when preparing an internal audit. 
Know what and how to audit. Eudy writes: "Internal audits should cover the full spectrum of the company's processes and be designed to close the loop between the industry's standards, customers' specifications, and the company's people, processes, and product." Previous audits, including internal audits, can serve as guidelines for which areas to pay the most attention to. Auditors will also focus on what has changed since the last audit. 
Establish and educate a cross-functional audit team. Eudy says to "train them in the company's audit procedure, policies, and specific elements of the standard relative to the third-party certification." Develop checklists for the team to use. These help train employees and ensure consistency. 
Evaluate corrective action reports. Identifying trends can help auditors get to the root cause of non-conformance events. Solving the issue in this way ensures that the events will not be repeated. 
Schedule the audits. Scheduled audits are preferred over spontaneous audits. 
After performing the audit, write an audit report. "This audit report should recognize areas that are meeting customer specifications and areas that are compliant with company's policies and procedures, and industry standards. Internal audits should also focus on opportunities for improvement and can be reviewed in the next scheduled internal audit when documented" (Eudy). The report should be presented at regular review meetings in which management – including senior management – and representatives from all areas of the company are present. 
Once an audit is complete and reviewed, findings will be used to make corrections and offer information for future internal audits. Remember to be consistent with the procedure and the message for the employees' sake. As Eudy says, "It is important to keep all personnel and departments focused on the same objective—creation of a climate of performance excellence and successful second and third-party audits."