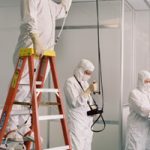 There are several reasons one would establish a microbial monitoring program for a non-sterile cleanroom. Among them are evaluating sanitization and disinfection efficacy, monitoring cleanroom production and lab environments, monitoring and qualifying personnel, and validating the cleaning process in and of the cleanroom.
One should always consult industry references for guidance, but we will outline three parts to establishing your program. (A few references: IEST-RP-CC023.3, Microorganisms in Cleanrooms (IEST will publish in 2014); ISO 14698 – 1 & 2, Biocontamination Control in Cleanrooms and Associated Controlled Environments; USP <1115> Bioburden Control of Non-sterile Drug Substances and Products)
Step 1. Analyze your Risk
The first thing you want to do is identify risks to the product and process for potential contamination. Jan Eudy of cemag.us suggests six questions to ask:
Is the product and/or process sensitive to changes or extremes in temperature and/or relative humidity?
What is the risk of microbial contamination to the product and/or process?
What are the customer's specifications?
Are there any safety concerns?
Have there been any changes in the existing cleanroom facility?
What are the regulatory requirements?
Use the answers to these questions to establish your procedure, metrics, and corrective action. Important things to remember:
Routinely check HVAC system compliance, as it helps control microorganisms.
Ensure proper gowning and adherence to cleanroom personnel practices. People are responsible for most contamination.
Ensure that you have an effective cleaning program developed. Your sanitizers and disinfectants should be determined, validated, and then implemented into your cleaning program. The monitoring program tests the efficacy of these products.
Step 2. Sample
For sampling, you want to determine the number and location of sampling sites as well as the frequency of sampling. Typical sampling sites include: areas near open and/or filled containers (or filling line), room air by work areas, floors/walls/door handles/curtains, and personnel.
You do have to determine and proceduralize your method of sampling air and surfaces microbials. Your procedures need: purpose, scope, references, specifications (including action/alert levels), methods, map of sampling locations, and corrective action.
Your method for sampling air microorganisms will likely use one or more of the following:
Impactors

Slit
Sieve
Centrifugal
Cyclone

Liquid impingers
Filter collection
Sedimentation
For surfaces, you'll use a contact plate for flat surfaces and swabs for irregular surfaces.
Step 3. Monitor
Finally, you will perform ongoing monitoring and analysis of date. The constant, consistent evaluation of data is critical to the success of your microbial monitoring program.
When corrective action is necessary, your failure analysis should include: a description of non-conformance, possible causes of the problem, identification of person responsible for creating/implementing corrective action, description of corrective action/schedule for implementation, and an evaluation of effectiveness of the corrective action.
Remember when performing corrective action, take a "do no harm" approach. With a proper microbial monitoring program established and carried out, you will maintain a useful status of your cleanroom's past and present.
For questions about validation, certification, or other cleanroom topics, contact Gerbig Engineering Company. 888-628-0056; info@gerbig.com.
*For a thorough description of the above steps, see http://www.cemag.us/articles/2014/06/microbial-monitoring-programs-non-sterile-operations