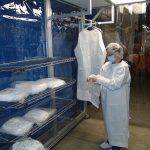 Cleanroom garments are an integral part of any controlled environment. For some, hiring a laundering service is the most efficient way to get these garments clean. For others, having onsite laundry facilities is the best answer. If you decide to clean your own cleanroom garments, here is what you need to know.

Cleanroom Washers & Options
Ultimately, the type of washer and features you choose will depend on your cleanroom class. Over any information you read here, make sure you consult with the appliance manufacturer or expert to ensure the one you choose meets your needs.
Most cleanrooms use split pocket washers. The inner cylinder is divided into two compartments to allow for easier loading and unloading. You can separate your contents by which dryer each will go into and lump each dryer load into its own washer pocket.
A pass-through, or side loader, washer allows you to load soiled garments into one side and unload clean garments on the other. This eliminates worry about exposing the cleanroom to soiled garments.
Front-load washers are commonly used for class ISO 6 and higher. Cleanrooms with these washers need to have fast recovery rates. Soiled linen must be brought in via a covered laundry cart.
If your washer is not installed on the lowest (ground) level, you need to install a soft-mount washer. These don't require a thick, reinforced, isolated concrete pad, so they are easier to install.
No matter your washer, you will have more options to choose from to make it the ideal machine for your specific needs:
• Electropolishing. This enhances the surface by making it smooth and shiny, thereby minimizing areas where particles, chemicals, and bacteria can be trapped. While expensive, it does remove all surface contaminants, eliminates oxidation, and leaves an easy-to-clean smooth surface. This is recommended for class ISO 3 and 4.
• Dimpled Cylinder Perforations. These cylinder perforations are embossed, or dimpled, on the outside to prevent garments from contacting sharp edges of the cylinder perforations.
• Variable Speed Drive. Ideally, you want to use the highest extraction speed that won't damage the fabric. With variable speeds, you can adjust the g's used for different materials, which is especially important for ESD garments. You'd want to use a microscope to examine for nicks, tears, and stress marks when unloaded.
• Auto Weighting. The amount of chemicals and water used for each load depends on the weight of the garments. With auto weight, the ratio is calculated for you. Also, this simplifies even loading of compartments. Some washers can also adjust the size of the cylinder to match the load size.
No matter what washer you choose, look for bearing housings designed to release excess lubrication outside the bearing housing. Washers' main bearings require regular lubrication, and you don't want the lubricant to squeeze past the seals and into the washer.
Cleanroom Dryers
Up to 80% of particles are removed in the dryer, and most of them during the cool-down. Therefore, the cool-down cycle will be extended in a cleanroom dryer. Cleanroom dryers provide clean air via HEPA, ULPA, or VLSI filters. Drying time decreases as washer extraction speed and time are increased. Depending on the extraction speed of the washer and the amount of cool-down time required, loads take between 20 and 40 minutes to dry. When the supply air is cold or humid, drying time will also increase.
Here are some of your options for cleanroom dryers:
• Air Sample Port. Here, the loading door provides access to the interior of the dryer cylinder. Garments can never be cleaner than the air flowing through the dryer, so a particle counter can be used to measure the air quality. You may also want an air sample port at the downstream side of the HEPA filter.
• Hinged Center Front Panel for Cleanout. With these, the inside of the dryer must be kept clean, especially for ISO 3-5 cleanrooms. Normal airflow stops when the dryer stops, and random pulses happen, freeing particles inside the dryer. This will contaminate the garments being dried.
• Two-stage Blower. This helps with the problem mentioned above by maintaining airflow at a minimum cfm. It almost eliminates contamination from random air currents at the end of the drying cycle when the blower would normally shut off.
• Turbo Box. This mounts to the discharge of the dryer's outer shell and connects to the inlet of the blower. Air velocity is maintained to eliminate particle drop-out, so you don't have to clean the lint compartment from the cleanroom side.
• Pressure Gauge. This goes across the filter assembly. With the HEPA filter mounted above the dryer, the pressure drop should be read from floor level and read weekly.
• Ionization System. This neutralizes static electricity that otherwise holds particles to fabric and fabrics together. With an ionizer, particles are released. This option is common for ISO 3-4 dryers.
Above all else, remember that you need a first-class filtration system that is clean, air-tight, and particle-free. Once you have your washer and dryer specs determined, maintain close communication between the cleanroom design engineer and the process engineer. You want to optimize process flow, material handling, quality control, and cleanroom design.
If you have questions about validation, certification, or construction of cleanrooms, contact the experts at Gerbig Cleanrooms: 888-628-0056; info@gerbig.com.